THE FERTI·LILY CONCEPTION CUP
Helps
to conceive at home
Delivers more
sperm to the cervix
Comfortable &
easy to use
Natural, safe &
hormone-free
Re-usable for
up to 6 cycles
Helps to conceive at home
Delivers more sperm to the cervix
Comfortable & easy to use
Natural, safe & hormone-free
Re-usable for up to 6 cycles
A SHORT INTRODUCTION
The FERTI·LILY® Conception Cup is a hormone-free conception aid that increases the chances of getting pregnant by 48%. Inserted after sex, it brings as much sperm as possible to the cervix so that more of them swim up into the uterus.
Developed to tilt the odds of conception in your favour without getting in the way of intimacy, the FERTI·LILY Conception Cup can be easily used at home to give you greater control over your fertility.
IT IS NOT ALL FUN AND GAMES
Getting pregnant isn't always easy. You'd hope to simply jump into bed together and just like that get pregnant. But whilst it might be 'the most natural thing in the world', trying to conceive often requires planning and patience, and it can get quite frustrating.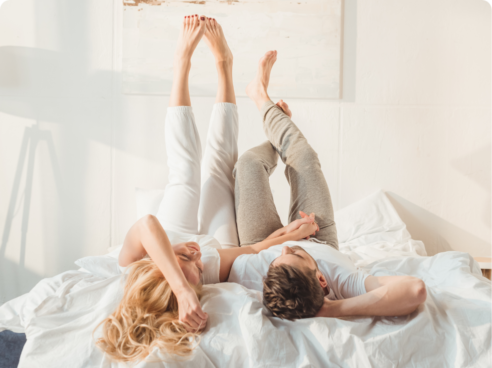 Bringing acrobatics to the bedroom
(but not in the fun way)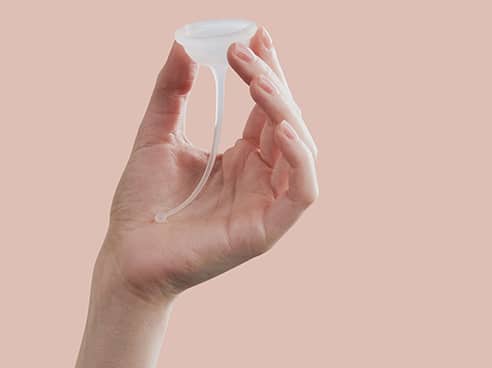 Worrying when it'll happen
only makes it worse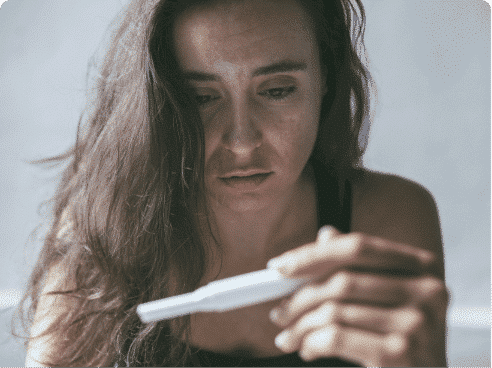 You make changes to your lifestyle
but it's hard to know what helps
INTRODUCING THE FERTI·LILY
CONCEPTION CUP
The FERTI·LILY Conception Cup doesn't involve hormones, doctors or medical procedures. It has been clinically proven to increase the chance of conception by 48% and can be easily used at home.
The FERTI·LILY Conception Cup is inserted vaginally after sex. Pushed close to the cervix and preserved by cervical mucus, the sperm cells survive for longer, meaning more of them enter the uterus to ultimately reach the egg.
SOFT AND
COMFORTABLE
SOFT AND COMFORTABLE
The cup is made from soft, flexible silicone and has a slim, stretchy stem attached. In a survey, 9 out of 10 FERTI·LILY customers found it comfortable to wear.
PROTECTS AND
PRESERVES
PROTECTS AND PRESERVES
The FERTI·LILY Conception Cup helps more sperm cells to enter the protective environment of the cervix. The cup acts acts as a cradle, pushing the sperm up and protecting them so that more can swim into the uterus.
EASY AND
DISCREET
EASY AND DISCREET
86% of FERTI·LILY customers found the cup easy to use. Once inserted you can get up, take a shower, go to the loo or get cosy on the couch. No need to lie with your legs in the air!
TESTIMONIALS
I found FERTI·LILY through social media and hesitated to buy it at first. In the end, we were very happy with our purchase! After months of trying to get pregnant, the FERTI·LILY cup worked immediately after the first use! In the meantime I am already 6 months pregnant and expecting a girl! I would definitely recommend FERTI·LILY!
JUSTYNA, NETHERLANDS
We did not understand why we were not succeeding in getting pregnant with our third child. Many ovulation tests and piles of pillows under the buttocks later, I read about the FERTI·LILY cup. The user experiences online were positive so we were very curious whether this product would make a difference for us. And yes, the next cycle was a hit! Fan·tas·tic!
ELINE, NETHERLANDS
Coincidence or not, the first month that I have used FERTI·LILY we have a positive pregnancy test in our hands. After 9 months of trying, we couldn't believe our eyes. We are very happy that we can welcome our little boy in March. It takes some getting used to inserting and removing, but I would use it again for a possible second round.
CAROLINE, NETHERLANDS
After using the cup once, I was immediately pregnant. We were trying for 1.5 years. In addition to FERTI·LILY, we have tried many more things. But when we tried the cup for the first time we succeeded right away. If only we had discovered it sooner. In any case, we are overjoyed now.
NANCY, NETHERLANDS
We hoped to get pregnant soon and that's why we bought the FERT·LILY cup after just one month of trying. Use is easy and fast. You don't have to stay laying in bed and after 2 uses we were already pregnant.
AMBER DE WAARD, NETHERLANDS
After a long time trying and a lot of uncertainty, we wanted to start with IUI, but we turned out to be pregnant in the 3rd cycle with FERTI·LILY just before we were going to the clinic. Very happy and still in disbelief.
MIEKE, NETHERLANDS
After a year and a half of trying to conceive without success, we finally conceived using the FERTI·LILY within just 2 months! Now 23 weeks pregnant with our 1st child.
BIANCA, NETHERLANDS
We were trying to conceive again after a miscarriage. After 4 cycles I tried the FERTI·LILY cup, just as a test. We used the help of ovulation tests and used the cup 3 times. It is easy to use (works a bit like the menstrual cup, only you put it in differently) after a while it started to 'leak', but it was then time to take it out anyway. Now 9 months later we have a sweet daughter 🙂 So I would recommend it!
JAIMY, NETHERLANDS
Using it for the very first time was a bit awkward, and we did have a laugh about it "Honey, hurry up, that thing needs to go in ASAP" and waiting for a while with "that thing" in… Fortunately it is very easy to use, the user manual is very clear. It does not feel uncomfortable, you hardly feel it and the removal was also effortless. We really feel that the FERTI·LILY helped us get pregnant!
ROSANNE, NETHERLANDS
We started to use the FERTI·LILY cup after a few months. We thought: no harm in trying… and hurray, within 3 months it helped us conceive! Now expecting our first baby boy. The cup was pleasant to use, I felt nothing. Easy to clean and to store in the cotton bag supplied.
STEFANIE, NETHERLANDS
After six months of trying to conceive, it still hadn't worked out. My husband and I agreed not to enter an IVF program or the like. But we did want to get pregnant. FERTI·LILY was a nice solution for us. It ensures that nature can do its job just a little better and that has resulted in a pregnancy after four times of using the FERTI·LILY cup.
REBECCA, NETHERLANDS