THE FERTI·LILY CONCEPTION CUP
Discover the scientific evidence for how conception caps aid fertility, ready clinical support for FERTI·LILY, plus reviews from FERTI·LILY users.
The FERTI·LILY Conception Cup helps couples to conceive at home. Made from soft silicone and free from hormones, it can be easily inserted after sex to push sperm closer to the cervix and increase the chances of conception.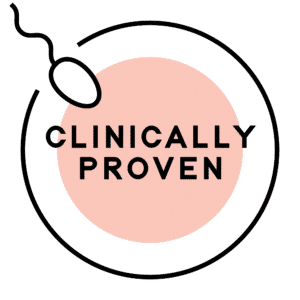 The FERTI·LILY Conception Cup has been clinically tested and shown to improve the chances of conception by +48%.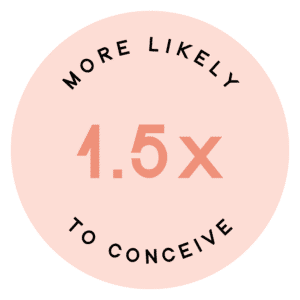 In a separate questionnaire, 201 women who used the FERTI·LILY Conception Cup were asked about their experience. 89% were satisfied with FERTI·LILY in general, 86% found the cup easy to use and 88% found it comfortable to wear. On average, users scored FERTI·LILY 4.4 out of 5 stars. For more detailed testimonials from FERTI·LILY users, scroll down to the bottom of this page.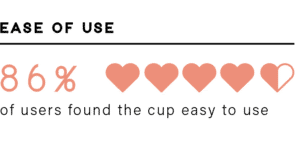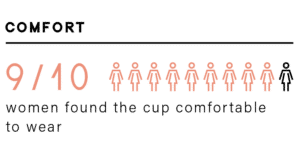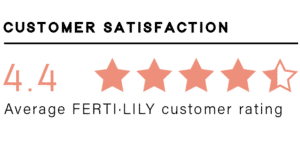 Cervical caps and cups have been used commonly for the enhancement and support of fertility. The primary purpose for these devices is to physically place the ejaculate as close as possible to the cervical os in order to maximise the amount of spermatozoa that swim through the cervical mucus on their way to fertilization(1) . Cervical caps have been shown to significantly increase the number of spermatozoa entering [the cervical mucus] by more than 300% (2) .
>300% MORE SPERM CELLS
ENTER THE CERVICAL MUCUS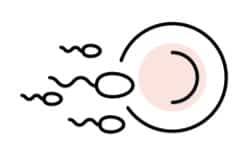 An increased concentration of spermatozoa in the cervical mucus has a beneficial effect on the chances of conception (3). A couple with a high sperm-cervical mucus penetration has a significantly higher chance of conceiving after 6 months than couples with a low penetration rate (29.1% vs. 2.3%).
"Even in couples with normal sperm quality of the male, markedly more pregnancies were achieved when penetration of the cervical mucus was good"(4) .
The FERTI·LILY Conception Cup combines the known benefits of cervical caps with ease of use and comfort to help couples feel more in control of their fertility. The FERTI·LILY cup does not interfere with any of the natural processes of conceiving(5,6). It's comfortable, easy to use, and because it's inserted after sex, it does not disturb the intimacy of the moment.
While the FERTI·LILY Conception Cup has no bearing on ovulation and other factors that can influence fertility, it has been proven to increase the chances of conception for otherwise healthy couples. The FERTI·LILY has been developed in collaboration with European gynaecologists and fertility specialists.
TESTIMONIALS
I found FERTI·LILY through social media and hesitated to buy it at first. In the end, we were very happy with our purchase! After months of trying to get pregnant, the FERTI·LILY cup worked immediately after the first use! In the meantime I am already 6 months pregnant and expecting a girl! I would definitely recommend FERTI·LILY!
JUSTYNA, NETHERLANDS
We did not understand why we were not succeeding in getting pregnant with our third child. Many ovulation tests and piles of pillows under the buttocks later, I read about the FERTI·LILY cup. The user experiences online were positive so we were very curious whether this product would make a difference for us. And yes, the next cycle was a hit! Fan·tas·tic!
ELINE, NETHERLANDS
Coincidence or not, the first month that I have used FERTI·LILY we have a positive pregnancy test in our hands. After 9 months of trying, we couldn't believe our eyes. We are very happy that we can welcome our little boy in March. It takes some getting used to inserting and removing, but I would use it again for a possible second round.
CAROLINE, NETHERLANDS
After using the cup once, I was immediately pregnant. We were trying for 1.5 years. In addition to FERTI·LILY, we have tried many more things. But when we tried the cup for the first time we succeeded right away. If only we had discovered it sooner. In any case, we are overjoyed now.
NANCY, NETHERLANDS
We hoped to get pregnant soon and that's why we bought the FERT·LILY cup after just one month of trying. Use is easy and fast. You don't have to stay laying in bed and after 2 uses we were already pregnant.
AMBER DE WAARD, NETHERLANDS
After a long time trying and a lot of uncertainty, we wanted to start with IUI, but we turned out to be pregnant in the 3rd cycle with FERTI·LILY just before we were going to the clinic. Very happy and still in disbelief.
MIEKE, NETHERLANDS
After a year and a half of trying to conceive without success, we finally conceived using the FERTI·LILY within just 2 months! Now 23 weeks pregnant with our 1st child.
BIANCA, NETHERLANDS
We were trying to conceive again after a miscarriage. After 4 cycles I tried the FERTI·LILY cup, just as a test. We used the help of ovulation tests and used the cup 3 times. It is easy to use (works a bit like the menstrual cup, only you put it in differently) after a while it started to 'leak', but it was then time to take it out anyway. Now 9 months later we have a sweet daughter 🙂 So I would recommend it!
JAIMY, NETHERLANDS
Using it for the very first time was a bit awkward, and we did have a laugh about it "Honey, hurry up, that thing needs to go in ASAP" and waiting for a while with "that thing" in… Fortunately it is very easy to use, the user manual is very clear. It does not feel uncomfortable, you hardly feel it and the removal was also effortless. We really feel that the FERTI·LILY helped us get pregnant!
ROSANNE, NETHERLANDS
We started to use the FERTI·LILY cup after a few months. We thought: no harm in trying… and hurray, within 3 months it helped us conceive! Now expecting our first baby boy. The cup was pleasant to use, I felt nothing. Easy to clean and to store in the cotton bag supplied.
STEFANIE, NETHERLANDS
After six months of trying to conceive, it still hadn't worked out. My husband and I agreed not to enter an IVF program or the like. But we did want to get pregnant. FERTI·LILY was a nice solution for us. It ensures that nature can do its job just a little better and that has resulted in a pregnancy after four times of using the FERTI·LILY cup.
REBECCA, NETHERLANDS
1) Diamond, Michael P., et al. "Pregnancy following use of the cervical cup for home artificial insemination utilizing homologous semen." Fertility and sterility 39.4 (1983): 480-484
2) Pelekanos, MICHAEL J. (2015). Postcoital Sperm Assessment Comparative Study. Surgical technology international 27, 184-190.
3) Alexander, Nancy J. "Evaluation of male infertility with an in vitro cervical mucus penetration test." Fertility and sterility 36.2 (1981): 201-208.
4) Eggert-Kruse, Waltraud, et al. "Prognostic value of in vitro sperm penetration into hormonally standardized human cervical mucus." Fertility and sterility 51.2 (1989): 317-323.
5) FERTI·LILY Conception Cup Usability study, 2018.
6) Mahony, M. C. (2001). Evaluation of the effect of a cervical cap device on sperm functional characteristics in vitro. Andrologia, 33(4), 207-213.